We've all been jarred awake before by a heart-pumping nightmare. Some bad dreams linger, haunting us long after they are over. Thankfully, this collection of songs about nightmares offers a glimpse into other peoples' night terrors or terrifying thoughts from a safe distance.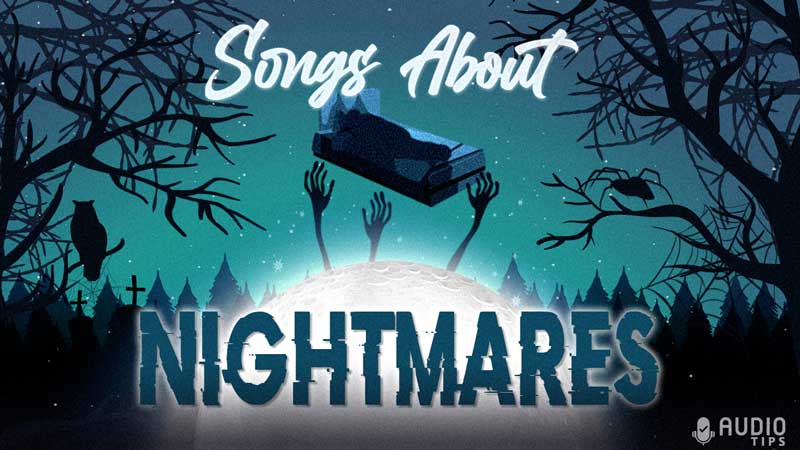 From songs about falling, being chased, attacked, or even dying, these decidedly darker tunes will encourage you to lock the door and maybe even hide under the sheets. Have a listen and see how these songs measure up to your worst nightmare.
1. Nightmare by Halsey
| | |
| --- | --- |
| Genre | Alternative Pop |
| Year Released | 2019 |
| Album | Single |
Hasley was creative and had some fun with her fans surrounding the release of her song "Nightmare." First, she directed fans to the website "nightma.re" where they could choose from a list of common sources of nightmares, like demons, ghosts, falling from great heights, or a loved one dying. Once a selection was made, the site offered an interpretation of the meaning of their specific worst nightmare. The song was certified platinum. The lyrics speak of female empowerment and suggest that Hasley's nightmare is confined and defined by patriarchal expectations.
2. Nightmare by Avenged Sevenfold
| | |
| --- | --- |
| Genre | Heavy Metal |
| Year Released | 2010 |
| Album | Nightmare |
"Nightmare" is the first single Avenged Sevenfold released following the death of their drummer, The Rev. The music video, which takes place in a hospital, pays tribute to the late drummer and is largely based on a scene from one of his favorite movies, the psychological horror film Jacob's Ladder. From frightening images of children playing and covered in blood to the lead singer strapped to a gurney, surrounded by ominous-looking surgeons with sharp blades, the music video takes viewers on a haunting journey through an insane asylum. Other members of the band are seen throughout the video acting psychotic, thrashing about in straight jackets, banging their heads against glass, and otherwise behaving like lunatics. Buckle up for a wild ride.
3. Nightmare by Offset
| | |
| --- | --- |
| Genre | Hip Hop, Trap |
| Year Released | 2017 |
| Album | Without Warning |
Produced by Metro Boomin and released on a collaborative album with rapper 21 Savage, "Nightmare" features an eerie and catchy beat that will have you nodding your head while Offset spits rhymes about Freddy Krueger and nightmares. The album was appropriately released on Halloween and peaked at number four on Billboard's 200 Chart. The official audio track has over 6 million streams on YouTube and should be added to every Halloween party playlist.
4. The American Nightmare by Ice Nine Kills
| | |
| --- | --- |
| Genre | Metalcore, Post-Hardcore |
| Year Released | 2018 |
| Album | The Silver Scream |
"The American Nightmare" was released as the lead single from Ice Nine Kill's concept album, The Silver Scream. The album features thirteen songs influenced and inspired by thirteen nightmare-inducing horror films. The music video for the song was inspired by the slasher-horror film Nightmare on Elm Street. It features a female protagonist that is full of dread as she appears to be the reincarnation of serial killer Freddy Krueger. Among the most terrifying of the song's lyrics is the line, "I'm counting bodies while you're counting sheep.
5. Welcome to My Nightmare by Alice Cooper
| | |
| --- | --- |
| Genre | Hard Rock, Glam Rock |
| Year Released | 1975 |
| Album | Welcome to My Nightmare |
"Welcome to My Nightmare" has been considered one of the best Halloween songs since it was released in October 1975. It is the title track from Alice Cooper's first solo album, which was certified Platinum by the Recording Industry Association of America. The album peaked at number five on Billboard's 200 chart. The songs tell the story of a child's nightmares. The album sparked a special television broadcast by ABC that featured Alice Cooper himself, trapped in an inescapable nightmare. In 1976, the special won an Emmy award for Outstanding Achievement in Video Tape Editing for a Special. As Alice Cooper said, "welcome to my nightmare; I think you're gonna like it."
6. Nightmare by NateWantsToBattle
| | |
| --- | --- |
| Genre | |
| Year Released | 2015 |
| Album | Five Nights at Freddy's 3 |
"Nightmare" was written by Nathan "NateWantsToBattle" Smith for the survival-horror video game series Five Nights at Freddy's. The song's accompanying lyric video has over 12 million views on YouTube. The lyrics speak to the pain and emotions of the game's main characters as they struggle with depression and cry out for help. Life can be a living nightmare for some people when dealing with depression, and this song has been hailed by many to have helped them through their own nightmares.
7. Endless Nightmare by Jake Hill & Josh A.
| | |
| --- | --- |
| Genre | Hip-Hop, Rap |
| Year Released | 2015 |
| Album | Chaos |
With over 43 million streams on Spotify, "Endless Nightmare" is a hugely popular song that details rapper Jake Hill's personal hardships and struggles with depression. The duo has garnered a large following of supporters that can relate to the intimate lyrics. Many fans of Jake Hill and Josh A. attribute their music to helping them deal with depression and have turned to the group's relatable lyrics to persevere through their own seemingly endless nightmares.
8. Beautiful Nightmare by Robert Grace
| | |
| --- | --- |
| Genre | Singer-Songwriter |
| Year Released | 2022 |
| Album | XXVII |
"Beautiful Nightmare" by Ireland-based Robert Grace is about an ex-lover that continues to haunt him. He describes the song as being about someone that once made you feel like you were the only one for them, just to leave you like it didn't mean anything. Despite them being no good for you, you find yourself wanting them back, and so they become a beautiful nightmare. Grace sings that he is haunted by her voice and can feel the darkness creeping in when she calls out to him, conjuring his mind again.
9. Nightmare by Virtual Riot & Autodrive (featuring Splitbreed)
| | |
| --- | --- |
| Genre | Dubstep, Electronic, EDM |
| Year Released | 2015 |
| Album | Nightmare EP |
"Nightmare" was released as the title track of an extended play by "Germany's prime minister of dubstep," the electronic music producer Virtual Riot. The album is considered Virtual Riot's best work to date, introducing new styles on every drop. The song opens up with ominous laughing and leads into a heavy beat, accompanied by dark lyrics. The lyrics contain images of burning buildings and allude to the unrest that hit Ferguson, Missouri, the year before the album was released.
10. Bad Dream by Cannons
| | |
| --- | --- |
| Genre | Electro-Pop |
| Year Released | 2022 |
| Album | Fever Dream |
Sometimes the dread of missing out or not being with the person you like while seeing them with another can be like living in a nightmare. With its soft, melodic harmony and groovy synth beats, "Bad Dreams" is undeniably catchy and has an ethereal dream-like sound. The music video features a man kidnapping singer Michelle Joy after one of her concerts and holding her hostage. Despite the dark subject matter, the kidnapper ironically dances to the beat of the song, and all the while, police are searching for the missing singer. Just as it starts to look like it might be the end for the singer, she uses psychokinesis to control a knife and stop the bad guy before he could hurt her.
11. Day 'N' Nite (Nightmare)by Kid Cudi
| | |
| --- | --- |
| Genre | Hip Hop, Pop |
| Year Released | 2009 |
| Album | Man On The Moon: The End Of Day |
Before Kid Cudi created "Day 'N' Nite" with his friend and producer Dot Da Genius, his life nearly took a different course, and his dreams of a career in the music industry almost derailed before they began. Facing eviction from his apartment on Staten Island, Cudi's nightmare was having to temporarily put his dreams on hold and move back to Cleveland until he landed on his feet and had the money to try again. Thankfully, Dot's parents welcomed Cudi into their home, where he worked around the clock with DDG, and the rest is history. The song has been certified 5x Multi-Platinum. The music video has nearly 200 million views on YouTube and over 570 million streams on Spotify.
12. Mind Playing Tricks On Me by Geto Boys
| | |
| --- | --- |
| Genre | Hip Hop, Rap |
| Year Released | 1991 |
| Album | We Can't Be Stopped |
"Mind Playing Tricks On Me" is considered one of the most influential hip hop songs of all time and has been referenced and sampled by artists from Ice Cube and Kid Cudi to Destiny's Child and OutKast. Rolling Stone Magazine ranked it the number five hip hop song of all time. The lyrics were primarily written by Geto Boys member Scarface and describe the nightmarish realities of the life of a gangster on the streets. When everyday troubles range from gang shootings, drug deals gone wrong, and the subsequent paranoia from worrying about payback, street life is like living in a nightmare. Scarface claims the song was inspired by his grandmother saying she was mumbling about her mind playing tricks on her.
13. A Bad Dream by Keane
| | |
| --- | --- |
| Genre | Alternative Rock |
| Year Released | 2007 |
| Album | Under the Iron Sea |
Singer-songwriter of the band Keane, Tim Rice-Oxley, claims "A Bad Dream" was inspired by the William Butler Yeats poem "An Irish Airman Foresees His Death." The lyrics pay homage to Yeats's poem and include the line, "I wake up, it's a bad dream, no one on my side." The song tells the story of an Irishman serving in the British army and fighting for freedom he didn't enjoy in his home country under British rule. The single starts out slow and builds into a heavy and angry expression of a man caught in a bad dream and envisioning his own death. The music video has over 22 million views on YouTube.
14. Tell Me It's A Nightmare by Kim Petras
| | |
| --- | --- |
| Genre | Pop, Dance Pop, EDM |
| Year Released | 2018 |
| Album | TURN OFF THE LIGHT, VOL. 1 |
"Tell Me It's A Nightmare" was released on a Halloween Mixtape and features a much darker sound than the bubblegum pop that Kim Petras was previously known for. In the lead-up to the release of the album, Petras posted creepy photos of herself alongside cryptic messages suggesting that there would be new material released soon. The song tells the story of a woman confessing to killing her lover and admitting that she warned him and should have seen it coming. Kim Petras alludes to the fact that being with her is like living in a nightmare. She sings that she is "a demon in the shadows, and you stepped into the dark."
15. All Nightmare Long by Metallica
| | |
| --- | --- |
| Genre | Heavy Metal, Hard Rock |
| Year Released | 2008 |
| Album | Death Magnetic |
"All Nightmare Long" was inspired by the horror fiction of HP Lovecraft, specifically the Hounds of Tindalos. Lead singer and chief songwriter of Metallica, James Hetfield, claimed the lyrics are about these fictional wolves that are the stuff of nightmares. The wolves were said to have long tongues that drained fluids from victims' bodies and hunt through their nightmares. Hetfield notes, "you can't even escape through sleep." The music video tells the story of the USSR adapting a bioweapon and released on the United States. The attack spurs a zombie apocalypse and eventually leads to the Soviet Union conquering the US.
16. A Nightmare To Remember by Dream Theater
| | |
| --- | --- |
| Genre | Progressive Metal |
| Year Released | 2009 |
| Album | Black Clouds & Silver Linings |
"A Nightmare to Remember" is a dark metal song written by Dream Theater's guitarist, John Petrucci. The lyrics tell the story of a near-death experience that Petrucci had when he was in a terrible car accident as a child. The song clocks in at over 16 minutes long and features the pounding sound of a double bass drum throughout the track. Petrucci describes the event and its aftermath as a recurring nightmare that he continues to be haunted by. The post-traumatic stress disorder that accompanies terrifying events like the car accident described in the song, lingers like a bad dream you just cannot shake.
17. A Nightmare On My Street by DJ Jazzy Jeff & The Fresh Prince
| | |
| --- | --- |
| Genre | Hip Hop, Pop-Rap |
| Year Released | 1988 |
| Album | He's the DJ, I'm the Rapper |
"A Nightmare On My Street" describes a run-in Will Smith had with slasher villain Freddy Krueger. Throughout the song, the Fresh Prince thinks that he must be having a bad dream about the Nightmare on Elm Street killer but eventually realizes that despite waking up from his nightmare, there is evidence it may not have been merely a night terror. Following the release of the song and its music video, DJ Jazzy Jeff and the Fresh Prince's record label, Jive Records, were sued by New Line Cinema for copyright infringement. The music video to the song was subsequently destroyed but can still be seen online today. The song peaked at number fifteen on BIllboard's Hot 100 chart.
18. Nightmare by Hollywood Undead
| | |
| --- | --- |
| Genre | Rap Rock, Nu Metal |
| Year Released | 2020 |
| Album | New Empire, Vol. 1 |
The music video, which was shot during quarantine, begins with a dictionary definition of the word nightmare on the screen. A piano starts playing during the intro as a man is seen falling in slow motion, a common source of nightmares. The lyrics are about how sometimes dreams can turn into nightmares. The band tried so hard to become successful, only to discover that fame has an unavoidable way of changing you, often for the worse. These thoughts haunt their minds and won't let them sleep, becoming part of their nightmares.
19. Nightmare by NEFFEX
| | |
| --- | --- |
| Genre | Rap-Rock, Conscious Rap |
| Year Released | 2018 |
| Album | Destiny |
The lyrics to "Nightmare" provide a commentary on modern society's addiction to social media and the detrimental effects social media can have on one's mental health. Bryce Savage laments that he is living in a nightmare where people are hooked to their phones and "thinking about posting whatever." Despite the insecurities he feels and the often unkind comments an overly critical public makes, Savage declares that he chooses to put himself out on a limb so he can ultimately put the nightmares to sleep. As of August 2022, the music video has over 6.5 million views on YouTube.
20. One More Red Nightmare by King Crimson
| | |
| --- | --- |
| Genre | Progressive Rock |
| Year Released | 1974 |
| Album | Red (Expanded Edition) |
Featured on the final album before King Crimson took a seven-year hiatus, "One More Red Nightmare" has a noticeably heavier sound than the band's previous records. The heavier guitar sound was achieved by layering numerous guitars in the studio. King Crimson is attributed as one of the pioneers of the progressive rock era, influencing other popular bands such as Genesis and Yes. The lyrics of the song describe a nightmare in which the singer is on an airplane that is experiencing turbulence and appears destined to crash. Upon waking up on a Greyhound bus, he realizes that it was just a nightmare.
21. Motorpsycho Nightmare by Bob Dylan
| | |
| --- | --- |
| Genre | Folk Rock, Talking Blues |
| Year Released | 1964 |
| Album | Another Side of Bob Dylan |
Bob Dylan's "Motorpsycho Nightmare" is a humorous story with political undertones, based largely on the suspense thriller Psycho by legendary director Alfred Hitchcock. The lyrics tell the story of Dylan showing up at a farmhouse, looking for a place to stay for the night. The farmer agrees to let him stay as long as the traveler leaves his daughter alone and milks the cow in the morning. The farmer's daughter awakes Dylan in the night and suggests he take a shower. The line refers to the famous shower scene in which Marion Crane is killed while taking a shower in her motel. Dylan's nightmare ends when he is chased out of the house by the farmer after shouting the most offensive thing he could think of, claiming to like Fidel Castro's beard.
22. My Own Little Nightmare by Random Encounters (featuring Gwen)
| | |
| --- | --- |
| Genre | Pop |
| Year Released | 2017 |
| Album | Random Encounters: Season 8 |
"My Own Little Nightmare" was written for the puzzle-platform horror adventure game, Little Nightmares. The setting of the game is in a mystical world, where the main character is trying to escape from monstrous beings. The lyrics are dark, with heavy horror overtones. The song starts out with a line that seems to describe a nightmare. Gwen sings that she is "adrift in oceans of madness and seas of fear." The music video has nearly 12 million views on YouTube. If you're looking for songs about nightmares, this is definitely one to consider adding to your playlist.
23. Nightmare by Set It Off
| | |
| --- | --- |
| Genre | Alternative, Pop Rock, Metal |
| Year Released | 2012 |
| Album | Cinematics |
With almost 30 million streams on Spotify, "Nightmare" by Set It Off was released on the band's album Cinematics, which debuted at number 174 on Billboard's Hot 200. The band teamed up with VH1 and their Save the Music Foundation and donated a dollar for every record sold to help fund school music programs. Lead singer Cody Carson wrote the song about his overwhelming anxiety and a particularly stressful experience he had once where he thought someone in his family was in danger. He ended up passing out and screaming for help. The song is mostly about how depression and mental health issues in general can affect one's life.
24. Never Ending Nightmare by Citizen Soldier (featuring Kellin Quinn)
| | |
| --- | --- |
| Genre | Rock, Hard Rock, Alternative Metal |
| Year Released | 2021 |
| Album | This Is Your Sign (Part 1) |
"Never Ending Nightmare" is a song about not being able to escape thoughts that are haunting you and wanting to just give up. The theme of the song is about not being able to get away from your negative thoughts, despite putting on a facade that you are okay. The YouTube video, which has over 2 million views, notes that "for those with mental illness, the most terrifying nightmares often happen when they're awake." The band encourages their fans dealing with depression to keep on fighting the good fight.
25. Nightmares by Violent Femmes
| | |
| --- | --- |
| Genre | Rock, Folk, Indie Rock |
| Year Released | 1988 |
| Album | 3 |
One of the most recognizable bands of the 1990s, Violent Femmes, released "Nightmares" on their fourth studio album, which peaked at number 93 on the Billboard 200 chart. The album is much more stripped down, featuring more acoustic guitar sounds than their previous records. The lyrics seem to describe a person having nightmares about their ex-lover. They are haunted in their sleep and ultimately wake up disappointed that they can only be with their lost partner in dreams and pine for what could have been.
26. Bad Dreams by Pete Yorn and Scarlett Johansson
| | |
| --- | --- |
| Genre | Alternative Rock, Electro Pop |
| Year Released | 2018 |
| Album | Apart – EP |
"Bad Dreams" was released on the second album as part of a collaboration by Pete Yorn and actress/singer Scarlett Johansson. The lyrics are about never really being at peace with a worried mind. Johansson sings, "sleep will never come that easy; we will always have bad dreams." The song lists several things that keep the singer up at night, from trivial to serious concerns.
27. Bad Dream by Ani DiFranco
| | |
| --- | --- |
| Genre | Indie Folk, Alternative Rock, Pop |
| Year Released | 2021 |
| Album | Revolutionary Love |
"Bad Dream" was released on Ani DiFranco's twentieth and most recent album, Revolutionary Love. The lyrics tell the story of a doomed relationship between Ani and her ex-lover. She thought they had a good thing going, only to be blindsided by her partner's infidelity. The music is slow and emotional, with notes of jazz, while Ani tells how she was unaware of any problems in her relationship until it was too late.
28. The Blues Is Just a Bad Dream by James Taylor
| | |
| --- | --- |
| Genre | Folk, Singer-Songwriter |
| Year Released | 1968 |
| Album | James Taylor |
"The Blues Is Just a Bad Dream" was released on James Taylor's debut album, as he was the first non-British artist signed to Apple records. Around the time he was working on the song, Taylor had a demo tape that ended up in the hands of the same manager of the Beatles at the time, Peter Asher. He then played the songs to Paul McCartney and George Harrison. They both were impressed and even sang backup vocals for Taylor's hit "Carolina on My Mind." James Taylor was struggling with drug addiction during the recording sessions, and the lyrics reflect the hardships he faced at the time. Taylor laments, "that nightmare's come to stay with me."
29. Bad Dreams by Rachel Lorin
| | |
| --- | --- |
| Genre | Pop, Singer-Songwriter |
| Year Released | 2022 |
| Album | Self-Preservation |
Sometimes being in a relationship with the wrong person can be like living in a nightmare. "Bad Dreams," tells the story of being in an abusive relationship with a controlling, manipulative person. Rachel Lorin calls her partner a psycho and admits that she fell in love with a monster. Despite the emotional turmoil she experienced, she claims that the unhealthy situation made her stronger, although she is still trying to awake from "this bad dream."
30. Bad Dreams by Faouzia
| | |
| --- | --- |
| Genre | Pop |
| Year Released | 2020 |
| Album | Stripped EP |
"Bad Dreams" is a powerful ballad by Moroccan-Canadian singer-songwriter Faouzia. The song is mostly stripped down and features Faouzia passionately belting out her incredibly powerful vocals over a piano. The lyrics speak of the popular theme of being tired but not being able to sleep due to dark thoughts haunting someone's mind. The music video has over 6 million views on YouTube and is worth watching just to hear Faouzia's incomparable vocal range.
31. Nightmare by AViVA
| | |
| --- | --- |
| Genre | Alternative Rock, Pop, Emo |
| Year Released | 2021 |
| Album | Volume III |
Since moving to Los Angeles in 2019, Australian-Maltese artist AViVA has amassed a large following, especially in the online gaming and anime community. Her music explores themes such as isolation, control, and living as an outsider or among the fringe in society. Her song "Nightmare" is incredibly catchy as she sings over a beat that will surely get your head nodding. The lyrics are dark as she sings she will "be your nightmare, leave feeling so scared."
32. Dreams And Nightmares by Meek Mill
| | |
| --- | --- |
| Genre | Rap |
| Year Released | 2012 |
| Album | Dreams And Nightmares |
Meek Mill's song "Dreams and Nightmares" is a powerful song that basically says that sometimes to reach your dreams, you have to go through nightmares. There are always struggles and scary times on the way to the top. There is always this terrible feeling, which always feels like a nightmare, that we'll be stuck at the bottom forever while we strive for our goals.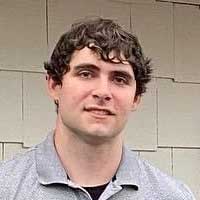 Hi, my name is Kevin and I'm from Butler, Pennsylvania. I've been obsessed with music and audio gear for as long as I can remember. I started this website to help people find professional advice related to a wide range of audio topics. We have a number of Audio Engineers on our team who have been designing and fixing audio gear for decades.