The doors and windows are closed. The curtains are drawn. It's raining outside, and off in the distance, you can hear the rumble of thunder. Occasionally, a flash of lightning streaks across the sky. Thunder and lightning can be truly awe-inspiring. There's just something about the power of an oncoming storm that reminds us of our place in the natural world. An impressive number of artists across various genres have felt sufficiently inspired by it and, from that inspiration, have created fantastic songs about thunder and lightning.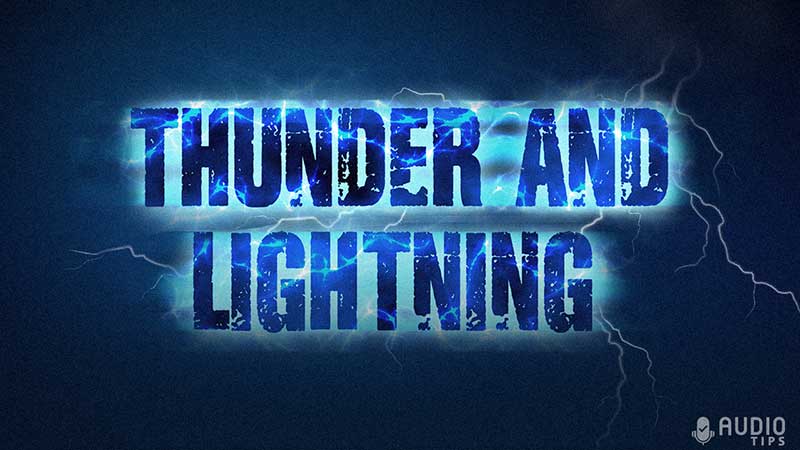 Below, we have compiled an epic list of some of our favorite songs from across all music genres. Check them out and enjoy the ultimate playlist for stormy weather.
1. Thunderstruck by AC/DC
| | |
| --- | --- |
| Genre | Rock |
| Year Released | 1990 |
| Album | The Razors Edge |
A great way to start this list is with this electrifying signature track from Australian rock giants AC/DC. The song started as a simple single-string Mixolydian "trick" for lead guitarist Angus Young. This inspired rhythm guitarist extraordinaire Malcolm Young to come up with the steady, suspenseful backing section. From there, it was a simple matter of naming the song in the grand AC/DC tradition of power and rock and roll.
"Thunderstruck" was a major hit, propelling AC/DC to the top of the charts in their third decade of existence, allowing them to headline Monsters of Rock at Donington shortly after, as captured in the video above. This song won many awards and even today is extremely popular.
2. Dreams by Fleetwood Mac
| | |
| --- | --- |
| Genre | Rock |
| Year Released | 1977 |
| Album | Rumours |
Fleetwood Mac's seminal 1977 album Rumours addressed the serious relationship issues within the band. Fleetwood Mac, despite their commercial success, was tearing apart at the seams. Band members wrote songs for, to, and about one another about their deteriorating relationships. No relationship in the band was more tumultuous than that of the band's chief songwriting duo, comprised of guitarist Linday Buckingham and lead singer Stevie Nicks. "Dreams" is a heartbreaking ode to letting go of your love and is best known for its powerful chorus refrain: "thunder only happens when it's raining." "Dreams" and Fleetwood Mac, in general, enjoyed a commercial resurgence in recent years as the song was featured heavily on TikTok.
3. Thunder In the Rain by Kane Brown
| | |
| --- | --- |
| Genre | Country |
| Year Released | 2016 |
| Album | Kane Brown |
Country singer Kane Brown uses the raw elemental power of thunder and fire to evoke the passion and chemistry of a couple in love. Brown's smooth baritone and his predilection for twanging banjos place him firmly in the long tradition of polished Nashville country singers. It was his knack for crafting earworm choruses amid ultra-modern bass-forward production that endeared Brown to a young, 21st-century audience. The singalong-ready chorus to "Thunder in the Rain" can often be heard reverberating across Nashville's honky-tonks and the arenas Kane Brown now calls home.
4. Thunder by Imagine Dragons
| | |
| --- | --- |
| Genre | Pop rock, electro-pop |
| Year Released | 2017 |
| Album | Evolve |
American soft rock titans Imagine Dragons are best known for crafting simple, powerful pop hooks. What could be more simple and powerful than evoking the awesome power of nature with a song called "Thunder"? This track is propelled by its irresistibly bouncy beat and single-word hook. "Thunder" offers a rare example of minimalism from Imagine Dragons, who lean towards bombast in most of their compositions. The track's bouncing, heavily distilled bass line and lush harmonies owe more to the minimalist work of Lorde than any of their alternative pop contemporaries. The song won many awards and even made it to rank 4 on the Billboard Hot 100.
5. Lightning Crashes by Live
| | |
| --- | --- |
| Genre | Alternative Rock |
| Year Released | 1994 |
| Album | Throwing Copper |
Live's "Lightning Crashes" was written about the fragility and transience of life. It tells the story of a connection between death and birth and the beauty of birth. Perhaps drawing on the association of lightning in Mary Shelley's Frankenstein, "Lightning Crashes" is one of Live's moodiest, most philosophical songs and is perfect for a stormy day.
6. Thunder Rolls by Garth Brooks
| | |
| --- | --- |
| Genre | Country |
| Year Released | 1991 |
| Album | No Fences |
American country music superstar Garth Brooks never shied away from bombast in his music. In "Thunder Rolls," Brooks used the metaphor of a storm brewing outside to depict the "thunder" rolling within a failing marriage. The delicately picked rhythm guitar figure, Brooks' soaring chorus, and the dramatic flourishes on the musical stabs evoke the crackle and roar of a genuine thunderstorm. Famously, Garth Brooks and his co-writer Sam Alger recorded their parts for "Thunder Rolls" live, with no overdubs and no second takes. The finished product has all the raw intensity of its original performance. This is one of my personal favorite songs about thunder.
7. Lightning by The Afters
| | |
| --- | --- |
| Genre | Pop rock, Christian rock |
| Year Released | 2019 |
| Album | Fear No More |
The Afters in this potent pop-rock track evokes the classic Old Testament imagery of lightning. This makes sense for the Christian pop-rock band, whose ebullient, optimistic songwriting epitomizes the genre.
8. Stormy Monday by T-Bone Walker
| | |
| --- | --- |
| Genre | Blues |
| Year Released | 1948 |
| Album | T-Bone Walker |
American bluesman T-Bone Walker was one of the first guitarists to adopt the electric guitar. He was a fixture of California's jazz and blues scene, often deploying techniques typically reserved for jazz virtuosos in his twelve-bar blues. Walker used extended chords and complex, musically dense phrases to deliver his signature playing style. Although the song follows a conventional twelve-bar blues structure, its unique composition and use of extended chords set it apart from its contemporaries to this day. The song depicts the classic blues trope of lost love, using the tempest of a storm as a metaphor for emotional turmoil.
9. Lightning by Yelawolf
| | |
| --- | --- |
| Genre | Hip-hop |
| Year Released | 2019 |
| Album | Ghetto Cowboy |
Yelawolf's leering, misanthropic 2019 track is a furious rant against his upbringing. In this song, Yelawolf describes himself and his friends as "just like lightning in a bottle" against the paranoid, drab backdrop of a town where "there's nothing to do." The song pushes forward over a lazing, distilled beat that blooms into a hopeful, powerful chorus.
10. Stormy Weather by Etta James
| | |
| --- | --- |
| Genre | Jazz, soul, standard |
| Year Released | 1960 |
| Album | At Last! |
Etta James was endowed with one of the most spectacular voices of the 20th century. Her command of gospel music, blues, jazz, and soul music and her deep, earthy voice set her apart from other female singers of the era. James rose to prominence in the 1950s and enjoyed a commercial comeback during the 1980s blues boom. Although James did not write "Stormy Weather," her version from the 1960s At Last! set the benchmark by which all other versions are measured. "Stormy Weather," tells the story of a woman whose world is enveloped in darkness since her man walked away.
11. When Lightning Strikes by KISS
| | |
| --- | --- |
| Genre | Hard Rock |
| Year Released | 2009 |
| Album | Sonic Boom |
Lead guitarist Tommy Thayer's first studio outing with hard rock titans KISS also featured his lead vocal debut for the band. 2009's Sonic Boom was released during a massive commercial resurgence for KISS, who were riding high on nostalgia following the 35th anniversary of their seminal hit record Alive! Tommy Thayer penned this electrifying, riff-heavy track alongside lead singer Paul Stanley, contributing lead vocals and a searing guitar solo. "When Lightning Strikes" offers the classic bombastic KISS experience to a new generation, with incendiary performances from the entire band and the instantly singable lyric "when lightning strikes, I howl at the rain and the thunder." Electrifying.
12. Thunder and Lightning by Thin Lizzy
| | |
| --- | --- |
| Genre | Hard Rock |
| Year Released | 1983 |
| Album | Thunder and Lightning |
Thin Lizzy's first album with lead guitarist John Sykes was also their last. Sykes' aggressive, heavy-metal-infused style infused the Irish rock band with new vigor and power. The most electrifying example of this is Thunder and Lightning's title track, an uptempo rocker complete with multiple rapid-fire Sykes solos. Lead singer and frontman Philip Lynott's characteristically descriptive storytelling ability is on full display with this track, a classic early-80s metal headbanger. Although Lynott tragically passed away only three years after this record was released, "Thunder and Lightning" stands as a testament to his songwriting prowess, brilliant song lyrics, and command of a thrilling chorus.
13. Thunder Road by Bruce Springsteen
| | |
| --- | --- |
| Genre | Rock |
| Year Released | 1975 |
| Album | Born to Run |
Like many of Bruce Springsteen's songs, "Thunder Road" is all about the story. It describes a young couple and their last chance to "make it real." Although it opens quietly, the song is delivered with the passion and intensity that came to be a hallmark of Springsteen's performances. "Thunder Road" marked an early foray on the part of "The Boss" into belligerently optimistic storytelling. "Thunder Road" isn't a barn-burning uptempo rocker like some songs about thunder and lightning. Instead, it calls on the imagery of stormy weather to depict the distance as Springsteen saw it between the American dream and American reality.
14. Thunder in My Heart by Leo Sayer
| | |
| --- | --- |
| Genre | Disco, soft rock |
| Year Released | 1977 |
| Album | Thunder in My Heart |
"Thunder in My Heart" is an undeniable disco classic. With an irresistible bouncing bassline, soaring, syrupy strings, and the slick, compressed guitar that made disco a commercial powerhouse in its 70s heyday, Sayer evokes the raw emotion and power of a thunderstorm. Sayer compares the wonder he feels dancing with the right partner to that of a powerful storm. Like the best disco tracks, "Thunder in My Heart" is thoroughly danceable, incredibly catchy, and captures the euphoria and terror of love and thunder in under four minutes.
15. Thunder Underground by Ozzy Osbourne
| | |
| --- | --- |
| Genre | Heavy Metal |
| Year Released | 1995 |
| Album | Ozzmosis |
A mammoth solo effort from Black Sabbath's "Prince of Darkness," "Thunder Underground" is pure, unadulterated, classic Ozzy. The track opens with an appropriately thunderous, chugging Zakk Wylde riff, continuing with Ozzy's apocalyptic wail. The lyrics, penned by Sabbath's bass player Geezer Butler, tell the story of a man trapped in a basement as a violent storm rages outside. Osbourne was riding high on the success of his partnership with guitar wunderkind Wylde, but the recording of Ozzmosis was marked by his tumultuous relationship with producer Michael Beinhorn. Perhaps as a result of this simmering tension and resentment, "Thunder Underground" seethes with the malice and fury of a thunderstorm.
16. Lightning Strikes the Postman by The Flaming Lips
| | |
| --- | --- |
| Genre | Alternative Rock |
| Year Released | 1995 |
| Album | Clouds Taste Metallic |
This track from alternative rockers The Flaming Lips is buried in their 1995 album Clouds Taste Metallic. Like many of the best alternative rock songs from the era, the lyrics to "Lightning Strikes the Postman" are somewhat cryptic but appear to depict a moment of lightning striking a postman literally. The song spins a Kafkaesque story of a postman apologizing to his clientele after being struck by lightning, which reduces his various packages to ashes.
17. God of Thunder by KISS
| | |
| --- | --- |
| Genre | Hard Rock |
| Year Released | 1976 |
| Album | Destroyer |
Of course, a song called "God of Thunder" comes from the kings of shock-rock braggadocio, KISS. The song from the fearsome foursome's breakthrough studio record Destroyer has been a concert staple since the 1970s, seeing bassist Gene Simmons ascend to the rafters to spit fake blood. A KISS concert must be seen to be believed, and "God of Thunder," with a mighty bassline and pounding drums, is a highlight for many devotees of the KISS Army. The song was actually originally penned as an uptempo disco-rock number by Paul Stanley, who slowed the song down per producer Bob Ezrin's recommendation. The more menacing version, evoking the gods of Olympus, was better suited to Gene Simmons' lecherous growl, and the rest is hard rock history.
18. Thunder & Lightning Polka by Johan Strauss
| | |
| --- | --- |
| Genre | Classical, Polka |
| Year Released | 19th century |
| Album | N/A |
This upbeat, lively polka from composer Johan Strauss captures the energy and excitement of thunder and lightning. Although it has no lyrics, Strauss aims to convey the thrill of a thunderstorm through his lively, effervescent instrumentation. This song moves along at a breakneck pace, propelled by increasingly intense string glissandos. If you're looking for songs about thunder and lightning to add to your playlist, this is one you definitely need to consider.
19. Distant Thunder by Richard Clapton
| | |
| --- | --- |
| Genre | Rock |
| Year Released | 1993 |
| Album | Distant Thunder |
Richard Clapton was an Australian singer-songwriter who blended rock and funk styles together to make a unique, very danceable sound. This song, like many others, evokes the imagery of thunder and lightning to capture the turmoil of a lost relationship.
20. Heavy Metal Thunder by Saxon
| | |
| --- | --- |
| Genre | Heavy Metal |
| Year Released | 1980 |
| Album | Strong Arm of the Law |
When the time came to record 1980's Strong Arm of the Law, British heavy metal band Saxon leaned heavily into the take-no-prisoners sound that sent its predecessor, Wheels of Steel, to the top of the charts. Saxon's "Heavy Metal Thunder" is a striking example of all that made the new wave of British heavy metal great. Saxon, on this track, deploys the speed and aggression of punk rock fused with metal's musical muscle. Saxon's uncompromising style, epitomized here by the frantic, furious pace of "Heavy Metal Thunder," is easily comparable to the feeling of being caught in a thunderstorm.
21. Shock of the Lightning by Oasis
| | |
| --- | --- |
| Genre | Britpop |
| Year Released | 2008 |
| Album | Dig Out Your Soul |
This single, propelled by a relentless beat from Zak Starkey, proved to all the naysayers that Oasis, even ten years after their Britpop heyday, had not lost a step. The song is instantly compelling because, according to chief songwriter Noel Gallagher, it was written "dead fast" with all the energy of the original demo.
22. Smokestack Lightning by Howlin' Wolf
| | |
| --- | --- |
| Genre | Blues |
| Year Released | 1956 |
| Album | Smokestack Lightning |
Although "Smokestack Lightning" has been covered by many artists across the R & B and rock genres, nothing compares to the original. Howlin' Wolf's use of the single E chord is powerful, relying heavily on blue notes and a distinctive guitar figure. "Smokestack Lightning" is a distillation of pure blues power.
23. Hell's Bells by AC/DC
| | |
| --- | --- |
| Genre | Rock |
| Year Released | 1980 |
| Album | Back in Black |
A decade before they were "Thunderstruck," AC/DC was on the verge of quitting. With charismatic lead singer Bon Scott tragically departed, they had to come back with a strong album and a new singer. The first studio effort to feature Brian Johnson opened with the powerful, moody "Hell's Bells," inspired by a tropical thunderstorm that threatened to destroy their recording studio. Back in Black, the album featuring "Hell's Bells" went on to become not only AC/DC's best-selling record but one of the best-selling albums of all time.
24. Lightning Strike by Judas Priest
| | |
| --- | --- |
| Genre | Heavy Metal |
| Year Released | 2018 |
| Album | Firepower |
Something about the awesome power of thunder and lightning really appeals to heavy metal bands. Judas Priest indulged in the power of lightning for their 2018 album Firepower. Perhaps the most impressive thing about this track is that, after five decades of heavy metal thunder, Judas Priest was still delivering invigorating, electrifying tracks like "The Lightning Strike."
25. Saw Lightning by Beck
| | |
| --- | --- |
| Genre | Folk, alternative |
| Year Released | 2019 |
| Album | Hyperspace |
Alternative troubadour Beck has never had any trouble transcending and redefining genres with his music. In that respect, "Saw Lightning," which draws on country and bluegrass in equal measure as hip-hop, with a cracking snare sample propelling the song alongside twanging strings and harmonica, is classic Beck. The track discusses being awestruck at the power of lightning.
26. Ride the Lightning by Metallica
| | |
| --- | --- |
| Genre | Heavy metal |
| Year Released | 1984 |
| Album | Ride the Lightning |
Metallica's "Ride the Lightning" was inspired by the electric chair method execution. It's a relentless, furious piece of classic 80s thrash metal, with James Hetfield barking over a pounding, chugging riff. Ride the Lightning marked the beginning of a journey toward greater musical maturity for Metallica, with rapid-fire, progressive-influenced rhythms and powerful, philosophical lyrics.
27. Thunder Kiss 65 by White Zombie
| | |
| --- | --- |
| Genre | Heavy Metal |
| Year Released | 1992 |
| Album | La Sexorcisto |
This pounding, thudding groove of this track from the reigning king of horror-heavy metal, Rob Zombie, brings to mind the slow, rhythmic rumble of distant thunder. White Zombie drew on influences from heavy music and horror movies to conjure a unique soundscape. On this powerful track, Zombie's band delivers a masterclass in capturing the chaotic, terrifying energy of a thunderstorm.
28. Ride the Lightning by Warren Zeiders
| | |
| --- | --- |
| Genre | Country |
| Year Released | 2021 |
| Album | Ride the Lightning |
Warren Zeiders rode the lightning to TikTok superstardom in 2021. Zeiders' gravelly voice, potent storytelling ability, and ear for a great hook transformed this song's simple, four-chord progression into something truly sublime. Zeiders uses the lightning as a metaphor for his own capacity for self-destruction.
29. Living in Lightning by City and Colour
| | |
| --- | --- |
| Genre | Alternative/Indie |
| Year Released | 2019 |
| Album | A Pill for Loneliness |
"Living in Lightning" sees velvet-voiced singer-songwriter Dallas Green of Alexisonfire indulging a mellow, philosophical side to his musical personality. In this song, the speed and fury of lightning are contrasted against the pressing weight of infinity in the chorus lyric, "I've been living in lightning for what seems like an eternity." This is definitely a more laid-back, mellow song for a stormy day.
30. Lightning Strikes by Ozzy Osbourne
| | |
| --- | --- |
| Genre | Heavy Metal |
| Year Released | 1986 |
| Album | The Ultimate Sin |
Ozzy Osbourne promised not to stop rocking until "lightning strikes again" on this chugging, defiant heavy metal anthem from The Ultimate Sin. Osbourne, on this track, compares his own infamous longevity, surviving plane crashes, addictions, and the demise of Black Sabbath, to lightning striking twice. Considering that Ozzy is still rocking to this very day, despite recent health troubles, it seems that lightning has yet to strike again.
31. Thunder on the Mountain by Bob Dylan
| | |
| --- | --- |
| Genre | Folk |
| Year Released | 2006 |
| Album | Modern Times |
This track from folk rock's perennial troubadour Bob Dylan leaned into old-school rock and roll. In a rare departure from his usual end-times cynicism, "Thunder on the Mountain" finds Bob Dylan at his most optimistic. Like much of Dylan's work, the song is deeply quirky and relies heavily on repeat listens to get its point across.
32. Thunder by Jessie J
| | |
| --- | --- |
| Genre | Pop |
| Year Released | 2013 |
| Album | Alive |
Jessie J's "Thunder" draws on a thunderous Eurobeat and Jessie's soulful, jazz-inflected delivery. Jessie J describes the song as a "dedication to God", bringing her own spiritual beliefs to the forefront of her booming musical career. Thunder is often associated with God in the Old Testament, and Jessie J evokes this connection on this spiritual, gospel-influenced track..
33. Twilight of the Thunder God by Amon Amarth
| | |
| --- | --- |
| Genre | Heavy Metal |
| Year Released | 2008 |
| Album | Twilight of the Thunder God |
Amon Amarth, with this song and the album of the same name, retold the story of Thor's slaying of the Midgard serpent Jormungandr. The ancient legend is depicted against a backdrop of brutal blast beats, growled vocals, and icy tremolo picking. Amon Amarth has always drawn on Viking mythology and Scandinavian history as inspiration for their music, and this plundering track has all the fire and fury of Thor himself riding into battle.
34. Lightning Bolt by Pearl Jam
| | |
| --- | --- |
| Genre | Rock, Grunge |
| Year Released | 2013 |
| Album | Lightning Bolt |
Pearl Jam branched out into a more experimental sound with 2013's Lightning Bolt. The song still features the clanging guitars and pounding drums that propelled the band to stardom in the 90s, with Eddie Vedder's unique, distinctive baritone riding over the top like a Valkyrie. In this energetic track, Vedder and co decided to be more forthright in their lyrics than ever before, deliberately evoking the power and majesty of lightning.
35. Thunder by Boys Like Girls
| | |
| --- | --- |
| Genre | Pop Rock |
| Year Released | 2008 |
| Album | Boys Like Girls |
"Thunder" was a rock radio staple back in the late 2000s. The song is held together by soaring lead vocals and the key line, "you'll always be my thunder." Like many other songs before it, "Thunder" uses the extended metaphor of thunder and an oncoming storm to describe the collapse of a relationship and is coming to accept things beyond one's control.
36. Thunder and Lightning by Phil Collins
| | |
| --- | --- |
| Genre | Soft Rock |
| Year Released | 1981 |
| Album | Face Vale |
Genesis' one-time stickman, Phil Collins, transformed into the reigning king of FM-friendly soft rock in the 1980s. By infusing infectious melodies, sparkling guitar parts, and Motown-influenced synth horns, Collins defined the sound of 1980s adult contemporary. Face Value marked Collins' first solo studio album, a clear departure from the art-rock stylings of his old band. "Thunder and Lightning" showcases Collins' keen sense of catchy melodies, perhaps alienating his old prog fans but endearing Collins to an entire generation in the process.
37. Thunder by Prince
| | |
| --- | --- |
| Genre | Pop rock, funk |
| Year Released | 1992 |
| Album | Diamonds and Pearls |
"Thunder," a major single from Diamonds and Pearls, is a reflective, autobiographical tune from one of music's true geniuses. Prince uses the classic Old Testament metaphor of thunder to evoke a judgemental God. The song opens with the line "thunder all through the night, with a promise to see Jesus in the morning light." It tells the story of Prince's choice to shelve his Black Album for including explicit content that he felt conflicted with his devout faith. Prince depicts the night he chose to withdraw the album as a Biblical battle for his soul, complete with synth drums and rolling thunder effects in the background.
38. Thunder by Lana Del Rey
| | |
| --- | --- |
| Genre | Orchestral Pop |
| Year Released | 2021 |
| Album | Blue Banisters |
Lana Del Rey, in her own cinematic way, depicts the collapse of a relationship with the tried-and-tested metaphor of thunder. Lana Del Rey uses the syrupy strings and warm, muted piano to evoke a nostalgic, misty-eyed vision of better days, now firmly in the past.
39. Hurricane by Luke Combs
| | |
| --- | --- |
| Genre | Country |
| Year Released | 2016 |
| Album | This One's For You |
On "Hurricane," country singer Luke Combs takes the metaphor of thunder and lightning one step further, evoking a hurricane when telling the story of bumping into a former lover. Combs' command of the chorus and deceptively complex lyrical delivery convey the turmoil of the experience above twanging guitars and a polished, radio-ready pop production style. Combs often uses weather-based imagery, such as in the song "When It Rains it Pours." If you like this song, you'll likely like many other songs about rain, as many of them also talk about storms.
40. Crying Lightning by Arctic Monkeys
| | |
| --- | --- |
| Genre | Indie Rock |
| Year Released | 2009 |
| Album | Humbug |
Humbug saw Sheffield's favorite indie band adopt a darker, more introspective tone compared to their bright, aggressive earlier work. The record sowed the seeds that became 2012's multi-platinum effort AM, and the track that best captures this transition is "Crying Lightning." The song rides high on Alex Turner's signature cryptic lyrics and a retro tremolo-soaked tremolo guitar tone. The band dutifully shuffles away through verses until the pounding, thunderous chorus refrain of "crying lightning" comes on with all the power of an unforeseen storm.
41. Thunder and Lightning by the Pixies
| | |
| --- | --- |
| Genre | Indie, Alternative |
| Year Released | 2022 |
| Album | Doggerel |
Who says alternative bands can't pen a huge, poppy hook? Not the Pixies, that's for sure. The Pixies on this track aimed for something big, bold, and orchestrated, incorporating their signature twists and turns into more conventional song arrangements than might be suggested by the likes of "Where is My Mind." This track features the earworm chorus "count the miles til lightning turns to thunder," once again invoking the image of a storm in depicting a collapsing relationship.
42. Lightning Bolt by Jake Bugg
| | |
| --- | --- |
| Genre | Indie, rock |
| Year Released | 2012 |
| Album | Jake Bugg |
Jake Bugg's depiction of a lightning bolt is that of sudden, unexpected situations. Examples include love at first sight, coupled with the song's energetic, chugging, acoustic-driven beat. "Lightning Bolt" pays clear homage to the early work of the Beatles and Bob Dylan, painting pictures of the council estate Bugg called home and offering the lightning bolt as a chance to
escape. In this, Bugg differentiates himself from many other depictions of thunder and lightning, whereby "the path of the lightning bolt" offers salvation rather than damnation.
43. Electric Love by Borns
| | |
| --- | --- |
| Genre | Glam rock, electro-pop |
| Year Released | 2014 |
| Album | Dopamine |
Singer-songwriter Borns channeled the glam stop of Bowie and Slade via modern electropop production to produce this ebullient, doe-eyed ode to the electricity of love. The song's relentless march and syrupy production are complemented by Borns' piercing falsetto and impressive vocal range. Who wouldn't want to be called "lightning in a bottle"?
44. I'll Be Thunder by Tina Turner
| | |
| --- | --- |
| Genre | Rock, pop |
| Year Released | 1986 |
| Album | Break Every Rule |
This song, the closing track from Tina Turner's 1986 album Break Every Rule is classic Turner. From her gravelly, soulful vocals to the lush, chorus-drenched 80s production, the song is a vintage Tina Turner power ballad. Turner here offers to a lover, "I'll be thunder, you'll be lightning," once more using thunder and lightning as a metaphor for a relationship.
45. Some Loud Thunder by Clap Your Hands Say Yeah
| | |
| --- | --- |
| Genre | Indie Rock |
| Year Released | 2007 |
| Album | Some Loud Thunder |
"Some Loud Thunder" opens Clap Your Hands Say Yeah's debut album of the same name with bright, jangling guitars and distorted vocals. The track nods to similar production cues from indie-rock darlings The Strokes and the relentless, churning pace of Lou Reed's early acoustic work. The song has the pace and vigor of an electrical storm, set against a backdrop of laid-back vocals and strummed guitar.
46. The Way to Thunder Road by The Lockhearts
| | |
| --- | --- |
| Genre | Rock |
| Year Released | 2015 |
| Album | Tales From The Sea |
Opening with a churning, phased-out guitar riff, Australian retro-rockers The Lockhearts here paid tribute to the man who paved Thunder Road, Bruce Springsteen. Armed with chugging guitars and pounding drums, this track barrels along at full speed as if following Thunder Road away at white-knuckle speed from a roaring hurricane. "They say we're all gonna die, it's a lie" is the refrain that leads into the chorus, invoking the lively, unrestrained power of electricity.
47. Summer and Lightning by Electric Light Orchestra
| | |
| --- | --- |
| Genre | Pop, rock |
| Year Released | 1977 |
| Album | Out of the Blue |
ELO's main man, Jeff Lynne, wrote "Summer and Lightning" as part of his Concerto for a Rainy Day. Electric Light Orchestra never shied away from space-rock cliches and unabashedly emotional lyricism and leaned heavily into this tendency in this segment of Out of the Blue. Rather than focusing on the fire and fury of a storm, "Summer and Lightning" opts to look forward to the clear blue skies that always follow a thunderstorm.
48. Lightning by The Wanted
| | |
| --- | --- |
| Genre | Pop |
| Year Released | 2012 |
| Album | Battleground |
British-Irish boy band The Wanted delivers a honeyed, soaring chorus on this track, comparing the thrill of early love to "playing with lightning." The song may have been intended as album "filler," but its infectious groove and the club-ready pulse of its instantly catchy chorus made this song a major hit. The singalong chorus owes more to the saccharine production of Eurovision than what most would associate with British boy bands like Take That or One Direction.
49. Struck By Lightning by The Chats
| | |
| --- | --- |
| Genre | Punk |
| Year Released | 2022 |
| Album | Get F*cked |
Australia's explosive punk rock power trio, The Chats, never claimed subtlety as a virtue. Instead, the band opts for an electrifying pace and lyrics about literally being struck by lightning. There are no extended metaphors or diatribes about decaying love. Instead, the band unleashes two minutes of lightning-fast power chords about how much getting struck by lightning would hurt.
50. Lightning by State Champs
| | |
| --- | --- |
| Genre | Pop Punk |
| Year Released | 2018 |
| Album | Living Proof |
Pop-punk upstarts State Champs delivered yet another upbeat, heartbroken punk rock track with "Lightning." This song has all the pace of an electrifying storm, with the catchy chorus and potent hook rising above the chugging guitars in a sublime piece of pop-punk songwriting. State Champs contributed yet another song to the oeuvre of breakup songs using thunder and lightning imagery.
51. Lightning Strikes by Aerosmith
| | |
| --- | --- |
| Genre | Hard rock |
| Year Released | 1982 |
| Album | Rock in a Hard Place |
Aerosmith, on their sole studio album devoid of lead guitarist and major songwriter Joe Perry, managed to court a surprising amount of commercial success. The strength of this single from Rock in a Hard Place was their only charting single without Perry, whose loose, colloquial guitar style is notably absent from the track. "Lightning Strikes" otherwise is a classic slice of Aerosmith, with Steven Tyler screeching and wailing over bluesy, overdriven guitars. The track evokes the sudden, unpredictable violence of lightning strikes.
52. Lightning by Bag Raiders
| | |
| --- | --- |
| Genre | Electronic |
| Year Released | 2019 |
| Album | Horizons |
Bag Raiders were darlings of 2010s Australian indie radio, with their easy, breezy take on poppy electronic music launching the duo to success. "Lightning" is a sparkling, effervescent piece of pop craftsmanship. Over the course of the lyrics, Bag Raider encourages the listener to view themselves as a "perfect storm," comparing them to lightning in a thoroughly positive take on the classic lightning image.
53. Lightning Song by Queens of the Stone Age
| | |
| --- | --- |
| Genre | Rock |
| Year Released | 2000 |
| Album | Rated R |
Queens of the Stone Age's "Lightning Song" uses dissonance and discordant, ringing guitar chords to evoke the "calm before the storm" feeling of watching clouds roll in over the horizon. Clocking in at just over two minutes long, this song should open any stormy day playlist, promising all the thunder and lightning to come.
54. Thunder Peel by Beck
| | |
| --- | --- |
| Genre | Anti-folk, lo-fi, alt-rock |
| Year Released | 1994 |
| Album | Stereopathic Soulmanure |
Beck's second studio album saw the genre-bending antihero applying his wit and drawl to even further horizons. This extremely short track was one of Beck's many experiments in noise and anti-commercial sentiments. Beck would later court the very commercial success that he deliberately mocked and thwarted on this song.
Related Article: Epic Songs About the Moon
55. Stormbringer by Deep Purple
| | |
| --- | --- |
| Genre | Hard rock |
| Year Released | 1974 |
| Album | Stormbringer |
Deep Purple's second studio album to feature lead vocalist David Coverdale, later of Whitesnake fame, took its cues from the breathtaking hurricane photo that inspired its cover. Stormbringer churns and pulses like a hurricane itself, with Coverdale howling like a banshee over the top of the track. The song has all the elements of classic Purple, including Ritchie Blackmore's virtuosic riffing, an undeniable blues beat, and Jon Lord's muscular, powerful organ playing.
56. Rainbow in the Dark by Dio
| | |
| --- | --- |
| Genre | Heavy metal |
| Year Released | 1983 |
| Album | Holy Diver |
Ronnie James Dio's hit single "Rainbow in the Dark" opens with the lyrics, "when there's lightning, you know it always brings me down."
Dio's penchant for memorable lines rooted in fantasy and art is on full display here as the band pounds away on the song's unforgettable riff. At the onset of the solo, Vivian Campbell unleashes lightning-fast alternate-picked runs and showcases his full arsenal of heavy metal shred techniques. Is there any better voice in the storied history of metal acts calling on the power of thunder and lightning than Ronnie James Dio's operatic tenor?
Also Read: Songs About Sunsets You'll Love
57. Lightnin' Strikes Lou Christie
| | |
| --- | --- |
| Genre | Pop |
| Year Released | 1965 |
| Album | Lightnin' Strikes |
This syrupy, saccharine slice of classic 60s pop songwriting was elevated by crooner and heartthrob Lou Christie. Christie co-wrote the song alongside Twyla Herbet, conjuring lyrics about falling in love and feeling like lightning striking. The song rolls merrily along with tolling bells, perhaps inadvertently inspiring AC/DC's "Hell's Bells" along the way, buoyed by Christie's powerful extended register in the chorus.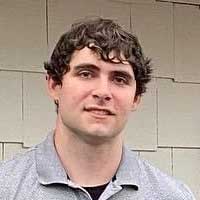 Hi, my name is Kevin and I'm from Butler, Pennsylvania. I've been obsessed with music and audio gear for as long as I can remember. I started this website to help people find professional advice related to a wide range of audio topics. We have a number of Audio Engineers on our team who have been designing and fixing audio gear for decades.